PAS Plus - car search in real time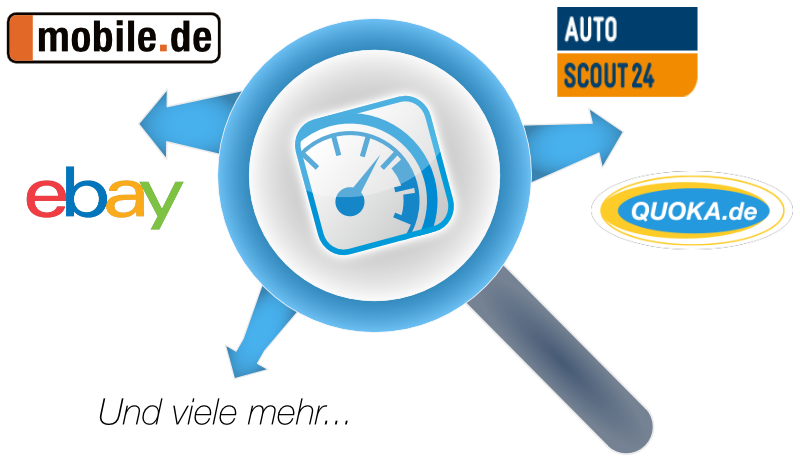 Car search software, car search engine, car search program - what is it?!
For you as a commercial vehicle dealer, the vehicle search on the numerous automobile portals is the daily business. In doing so, you have to repeatedly scour numerous websites in order to find a vehicle that is worth buying.
But even if, after a long search, you have found a suitable advertisement, the next time you call it - in the vast majority of cases - it will already have been sold.
How can that be ?
The German automobile exchanges have an estimated vehicle population of approx. 4.000.000 vehicles. A huge number! Every second vehicles are advertised, updated and deleted.
You can hardly keep an eye on this enormous variety of data. If you have discovered a suitable advertisement - for you - it has probably been minutes since this advertisement was placed online. Plenty of time for your competitors to contact the provider and purchase the advertised vehicle.
Presumably, ask yourself now: How can my competitors find a suitable vehicle so quickly and buy it if they are interested?
PAS Plus - real-time car search
Most likely, your competitors are using our car search engine "PAS Plus".
PAS Plus is a software program for Windows & macOS systems that helps you keep track of the market. PAS Plus searches all important German automobile exchanges - for exactly the right advertisements for you - in real time.
As soon as a suitable ad is placed online, it will appear in our car search program. Now you can contact the vehicle supplier directly and purchase the vehicle if you are interested.
It is up to you how many search filters you want to create. You can specify in detail which vehicles are of interest to you.
But with the help of PAS Plus you won't miss a bargain even when you're on the move. With the help of our "PAS Notify" app, you will receive all incoming vehicles that have been filtered for you on your smartphone or tablet.
All this is just a brief excerpt from the many opportunities PAS Plus has for you.
If you also want to make your working day more successful, faster and more convenient, you will find further information under the following links:
»What is PAS Plus? / Quickstart «
»Our Apps«
Any questions ? Give us a call.
+49 (0) 6421 - 96 88 740