Recently, a new and helpful feature was introduced in one of the latest PAS Plus updates. This article is meant to be a brief introduction to how it works.
Advantage of a vehicle exposé
With the help of the exposé function, you can now create a vehicle exposé quickly and easily.
This is helpful for customers and prospects, professional and easy to send all important data to a vehicle. The direct integration into your autosoftware saves you a lot of time and money.
Direct to the vehicle Exposé
Step ⓶:
Select a vehicle for which you want to create an exposé (vehicle list or parking lot) and right-click on it.
Step ⓶:
In the right-click menu, find the function "Create Exposé" and click on it.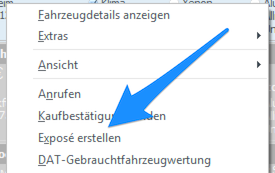 If this function does not exist for the version of our car search engine you are using, please install the last software update.
You can use Automatic Update to stop and then restart PAS Plus. After the restart, an information window appears in which you can start the update process.
Step ⓶:
The window for the Exposé creation opens.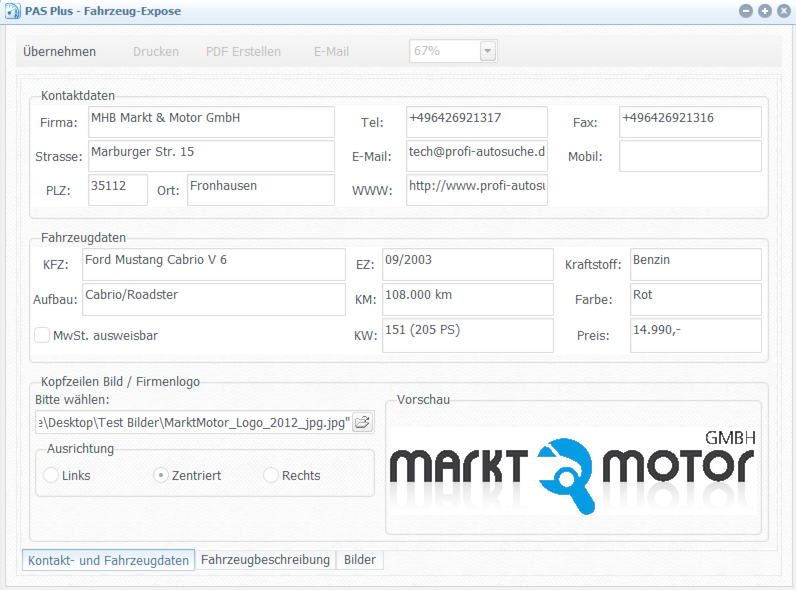 In the upper area (contact details) your contact details are already filled in automatically, if you have defined them in the settings. If this is not the case, you can always save them in the program settings or enter them individually for each exposé.
In the following section (vehicle data), the vehicle data of the selected vehicle has been adopted. These can be adjusted as you like.
Finally, if desired, you can choose a logo in the lower area, which is integrated in the vehicle exposé.
Step ⓶:
Click on "Description" at the bottom of the window.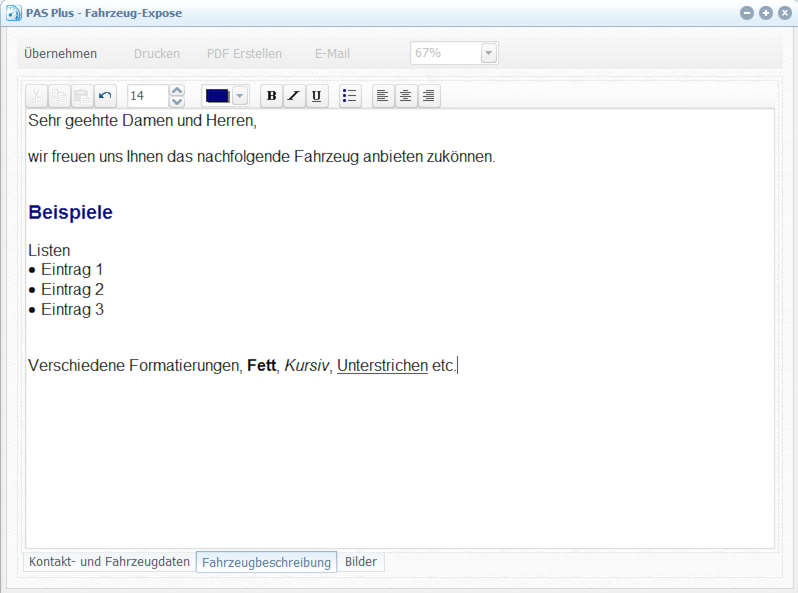 Now enter your vehicle description as you wish. The usual formatting options are available.
Amongst other things
Bold, Italic, Underline
Different font sizes
Different font colors
Left, Right-justified or Centered
Step ⓶:
Click on "Images" to set the vehicle images.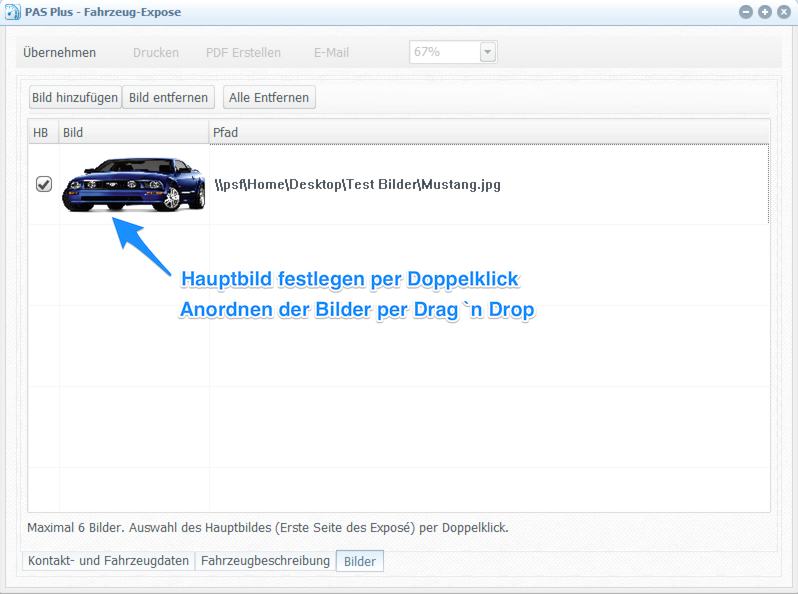 Add the vehicle pictures by clicking on "Add picture".
With a double-click on the desired picture, you define this as the main picture. The main picture then appears on the cover page of your exposé.
If you want to change the order of the added images, click on the corresponding image while holding down the left mouse button. Move the mouse up or down to adjust the arrangement.
Complete
When you have completed all entries, you can create your exposé by clicking on "Apply". This point can be found in the upper part of the window.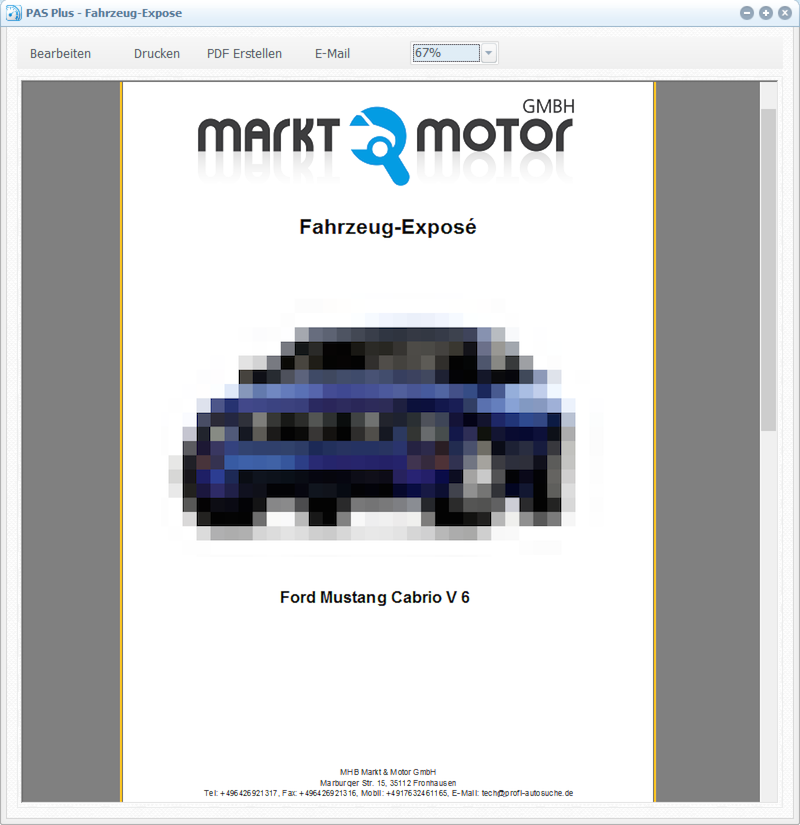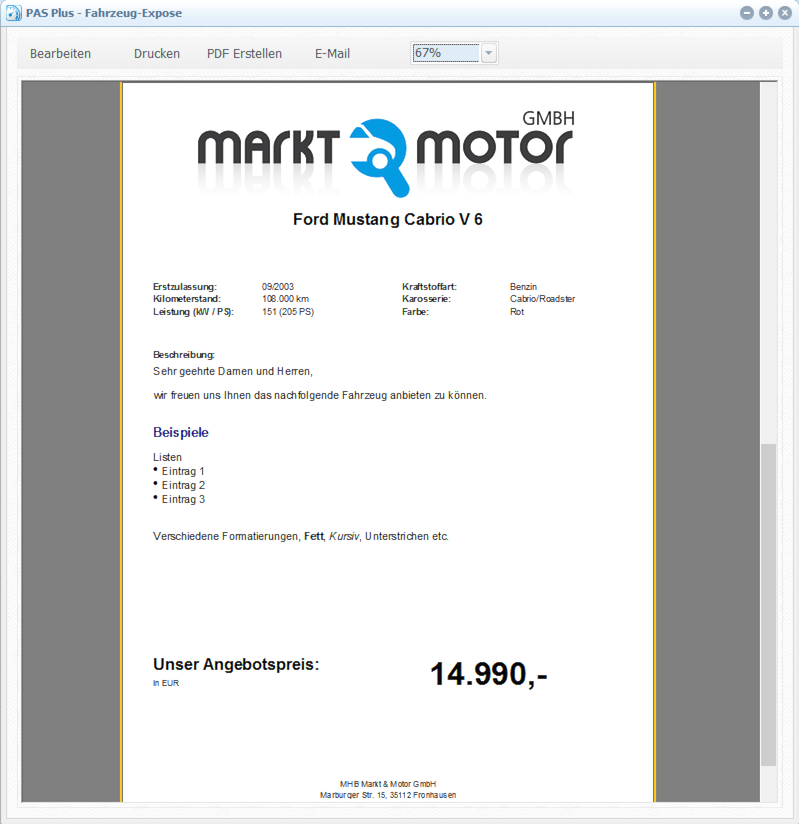 With this you have successfully created the exposé and can now either print it out, save it as a PDF or send it directly by e-mail.


Written on 19.08.2015 at 15: 52