Most recently, our support team often received a request for a simplified email notification. With the update to version 3.1.0.2 this wish was implemented now.

This article will now explain the use of optimized e-mail notification.

Basic setting of the e-mail notification
Step ⓶:
Click Settings

to open the program settings.
Step ⓶:
Click the "Notifications" tab.
Step ⓶: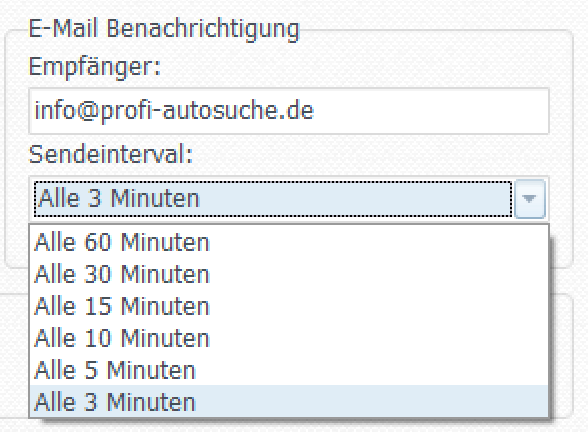 Now you can make the basic settings in the lower right area and set the e-mail recipient, as well as the transmission interval.

Save these settings by clicking on "Ok". This completes the basic configuration.



Selection of filters to consider

Click on "Search filters" and select the search filters that you want to be notified about new vehicles. To do this, simply click on the "letter" symbol for the corresponding search filter.

Start the e-mail notification
After the start of our autosoftware the e-mail notification is turned off first. To start it now, simply click on the corresponding icon in the upper program window.



The e-mail notification is activated and you will immediately receive the results of your chosen filter, conveniently by e-mail to the address you specify.


Written on 10.12.2015 at 12: 23